Shadow IPcentral
Simplify IP management with graphical tools
Understand and organize your entire IP address space using the familiar Microsoft BackOffice™ interface. Quickly drill down to individual subnets and see both static and dynamic assignments "at a glance".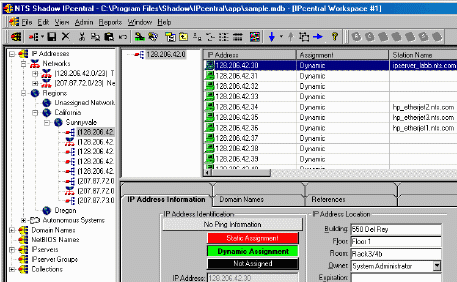 IPcentral's Explorer-like free view represents your company's top-level areas, with expandable branches showing increasing level of detail. From regions to networks, subnets, and individual devices, you can see configuration and service information as detailed tables, or summarized with icons.
Novice network administrators will quickly understand IPcentral's familiar graphic user interface. However, the most sophisticated users will find it is a powerful and efficient tool. By simplifying configuration, the graphical user interface helps minimize errors, improving network reliability and database consistency.
IPcentral can display individual addresses or a subnet through a matrix-style Status Board. Static and dynamically assigned entries are color-coded for a quick picture of a subnet. An address testing capability (ping) on the Status Board quickly determines the up/down status of stations.

to Manager Overview page