Shadow IPserver: Remote Management
Remote management for centralized control
As core network devices, Shadow IPservers are designed to be deployed with other networking equipment -- in communication rooms and wiring closets, not on an administrator's desktop.
While local monitor and keyboard console support is available for initial installation and diagnostics, all system configuration, parameters and services can be managed remotely through remote Shadow management applications.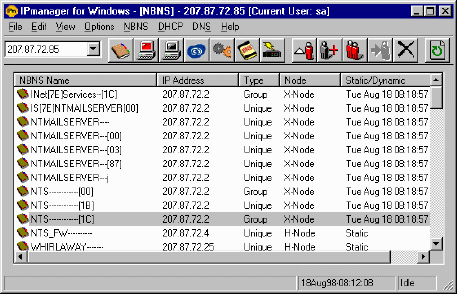 Shadow IPmanager for Windows
Shadow IPmanager offers simple graphical remote access.
Also included with the Shadow IPserver is Shadow IPmanager for Windows, a graphical user interface for Microsoft Windows. This tool is a simple and efficient way to review and update Shadow configuration, services, and current database entries. IPmanager for Windows also supports file import and export and basic user/password security. IPmanager can also be used to update DHCP, Dynamic DNS, and NBNS services, to view the event log, and to manage and monitor system status information.
Shadow IPcentral offers comprehensive enterprise management for both static and dynamic IP information.
Customers with larger implementations of multiple servers and additional static address considerations should consider Shadow IPcentral. This product offers extensive graphical tools for managing IP space from an integrated SQL database. IPcentral is available as a separate application. For details, see IPcentral.